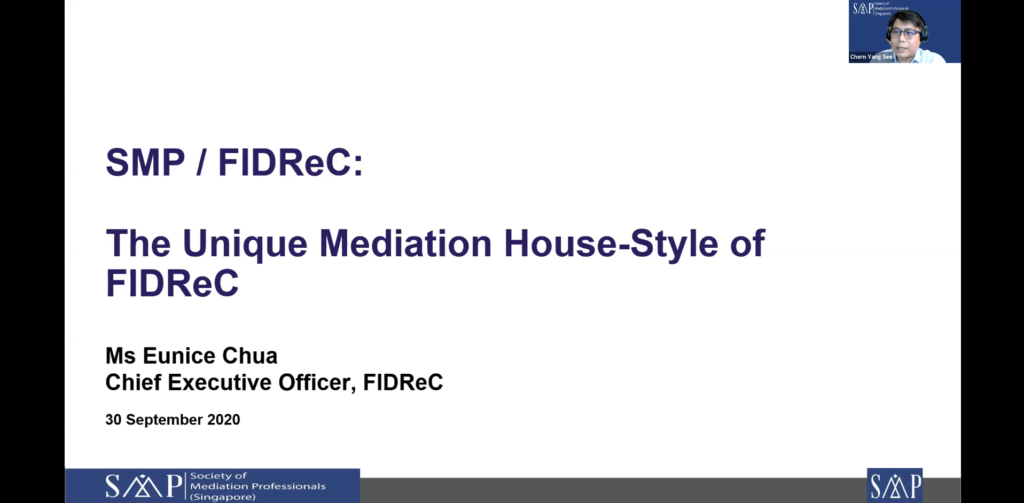 On 30 September 2020, SMP had the privilege of hosting CEO of FIDReC, Ms Eunice Chua, accompanied by two of FIDReC's specialist mediators, Ms Beverly Wee and Ms Wong Chiou Torng, in an online discussion conducted over Zoom.
Participants in this seminar were treated to an extremely interactive and informative session. 
The session started with an online trivia quiz about FIDReC's history, organisation, and dispute resolution processes. Eunice and her colleagues then captivated everyone's attention with an entertaining role-play of a typical FIDReC mediation.
The session showcased how FIDReC's mediators effectively rose to the challenge of facilitating a consumer dispute by acknowledging and managing emotions, assisting parties to communicate and understand each other better, and making suggestions when parties are at an impasse.
The session ended off with a Q&A session where participants were then given a chance to direct their many questions about the unique in-house style of FIDReC mediations to our panelists, Eunice, Beverly and Chiou Torng. 
SMP thanks FIDReC and all participants for joining us in this series of seminars as we get an in-depth view on the different nuanced approaches in mediations across various specialised fields.